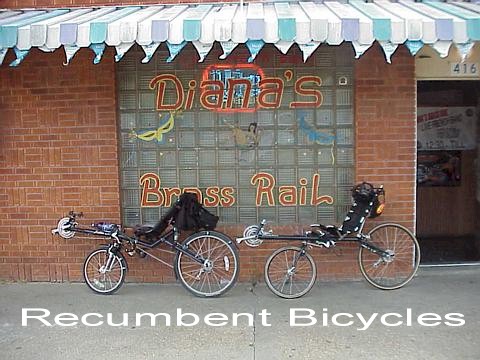 May 2000, Mamou, LA - 10:30 am on the third day of the Cycle Main Street tour & I'm passing through downtown Mamou & see another recumbent bike parked in front of the bar. Just as I pass, the bike's owner sticks his head out the door and waves me over. Only in Louisiana...
My New Year's resolution for 1999 was to do more aerobic exercise. Since I didn't care much for running, and had a bike, the choice was pretty simple. At least for a while - until I rediscovered how uncomfortable a traditional bicycle seat can be. Since my cycling fitness goal was to ride at least 62 miles at the Hotter-n-Hell 100 in August, comfort became a critical factor.
In researching more comfortable alternatives, I discovered the wonderful world of recumbent bicycles and purchased an entry level bikee (at the time only one bike shop in San Antonio carried recumbents, of course today, no San Antonio bike shops carry recumbents). Three months later, I upgraded to a Vision R44, with full suspension, which I thoroughly enjoyed while riding the HH100 that August.
Over the next couple of years, I did a good bit of riding (over 5000 miles on the Vision), including tours of France (where I bought my first trike) and Holland. Jayne liked biking also, but didn't like being left behind, so when the opportunity to purchase a tandem trike presented itself, we pounced. Now we could ride together on a stable, comfortable vehicle. The tandem was so much fun, we had a custom version constructed that could be disassembled for air travel, and have used it for two European tours, as well as our weekly rides down the San Antonio Mission Trail.
Today, biking is a regular part of our lives. We participate in many bike-related events, helping raise funds for civic organizations and the MS society. I served a term as a Citizen Representative to the Bicycle Mobility Advisory Committee, which provides input on cycling-related issues to the Metropolitan Planning Organization.
Below are links about our bikes, travel and adventure pages, and links to resources.

Recumbent Links:
| | |
| --- | --- |
| | |
| | Optima - the Dutch company that built my Trike. |
| | RANS - not just bikes, but airplanes too! |
| | Recumbents.com - good general web site about recumbent bikes |
| | 'BentRiderOnline - online recumbent magazine. Look for my Holland story in the July 2001 issue. |
| | The San Antonio Wheelmen - our local bike club. Not many 'bents, but nice folks. The club sponsors at least 2 rides per week. |
| | Sands Machine - they make the special couplings for our tandem trike. |