Our Trip to France
October 19 - 31, 2000
(Click on thumbnail pictures for larger view.)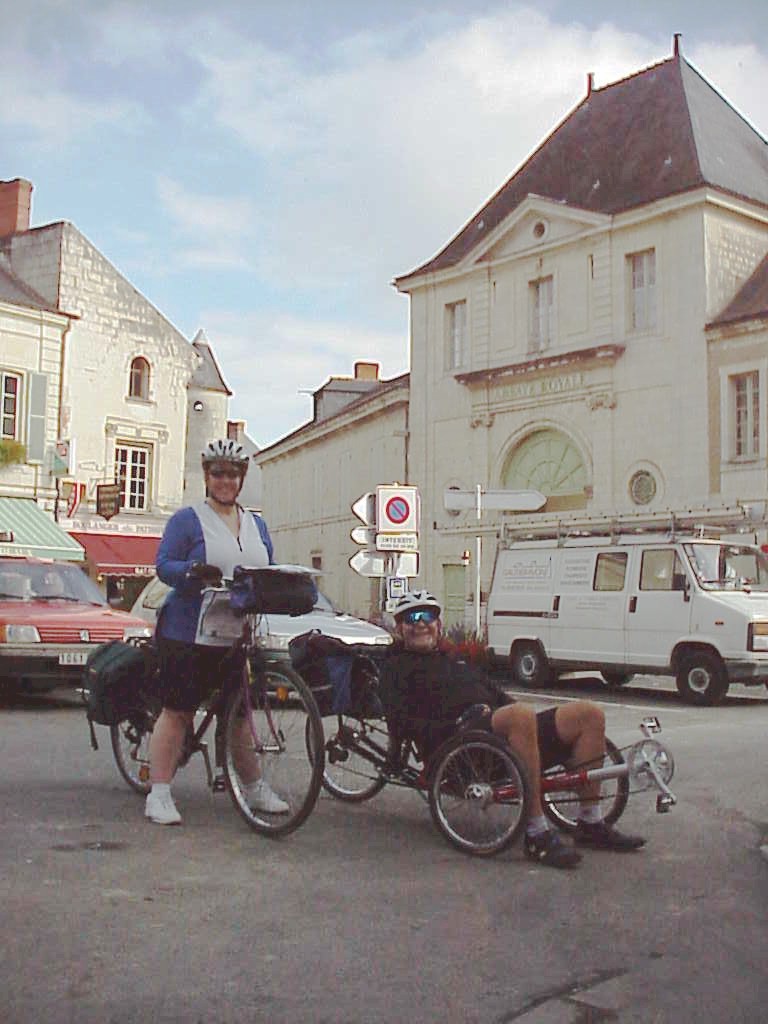 In February, Jayne spent a week in Paris and fell in love with France. When schedule changes forced us to cancel our planned October vacation to Mexico, we started looking for other options. After a lot of internet searching and airline negotiation, we decided that a return to France would be in order, and, as is our custom, to focus on a relatively small portion of the country. The Loire River valley, with its wine country, small villages, and chateaus seemed ideal, and when coupled with the relatively flat terrain of the river valley, would lend itself to bicycle touring.
Our plan was to spend a couple of days in Paris, then to begin our bike tour in the Loire river valley. The Loire river valley is about 150 miles southwest of Paris. It was originally the home base for the French royalty. Kings did not reside in Paris until the 17th century, preferring to rule from their Loire valley estates. Our tour would take us through the heart of chateau and wine country.

We were fortunate to find Claude and Jacqueline Blanchard's Ajou Bike Center, located in the hamlet "Le Clos de la Touche", near the village of Blaison-Gohier.
Bikes were an issue. We wanted to ride recumbent bikes, but were concerned about lugging two bikes through Paris and on the TGV train to Angers (only certain trains will carry unpacked bikes and luggage space is limited on the TGV). Through an internet discussion group, I was able to find a recumbent dealer for Optima bikes in France that also rented recumbents. After a bit of email and phone discussions with Mark Sherpenzeel of Airodin, we decided to rent a recumbent for Jayne and to purchase a recumbent tricycle (Optima Rider) for me. Due to some misadventures with the bike delivery, Jayne ended up riding one of Claude's rental bikes for the entire tour, and I had to ride a conventional bike for the first day.
We started the bike tour on Monday, October 23.
Click on the schedule links below to see a day-by-day description and photos.
Tuesday: Mestre to Fontvraud and Cheille'
Wednesday: Cheille' to Villandry
Thursday: Villandry to Amboise
Saturday: Chaumont to Blois and return to La Clos
On Sunday, we packed the bikes and prepared for our return home. We would take the TGV train from Angers direct to Charles de Gaulle Airport, overnight at an airport hotel, then catch our early morning flight back to the states. If only it were that easy.
Jacqueline prepared a Sunday lunch of local favorite foods that was excellent. Unfortunately, Jayne became ill that morning with a stomach virus that was not very pleasant. It would continue to plague her throughout the remainder of our trip. (It was interesting to see the French on the TGV maintain their savoir fare even as Jayne was puking on the exit door - luckily we couldn't understand French.) Couple Jayne's illness with some of the worst storms to hit Europe in years, and you have a recipe for loads of fun.
We arrived at the airport around 10 pm Sunday night and after waiting for the hotel shuttle for a while, decided to stay at the airport Sheraton instead, as it was only 100 meters or so from the bus stop. It was a nice hotel, particularly for $200, but they stored the trike and shuttled us to our departure terminal at 5 the next morning. That's where the real fun started.
Our schedule was to fly British Airways to London, then connect to American Airlines on to Dallas and San Antonio. When we arrived a the BA counter, we were informed that our flight was cancelled. No fun. Jayne got on the phone to American and got us seats on the 10 am flight from Paris to Dallas (because we were on frequent flyer tickets we couldn't book this flight on our original schedule).
We haul our bags and the trike over to the American terminal, have a thoroughly fun time trying to get actual seat assignments from one of the few rude Frenchmen we encountered on the trip, then go to the departure lounge. We wait, and wait, and wait - "delays due to weather", until 2 pm when they announce the cancellation of the flight. Back to collect baggage, Jayne in line for rebooking - we make new friends while in line.
Thanks to Jayne's negotiating skills, we get rebooked on a flight the next morning, plus American puts us up in the airport Hilton and picks up our meals.
A note about French television... We spent 10 days in France with only occasional glimpses of television. About the only English television is CNN and Sky News, and after an hour or so, they get repetitious. We did get the chance to see Friends dubbed into French, and the French version of Who Wants to Be a Millionaire (the host wears the same shirt/tie combo as Regis) The airport hotel television was interesting, since it not only included the requisite CNN/Sky News and French TV, but also featured German and Italian TV. I got the chance to check both nations' versions of Millionaire (though technically, the Italian version should be called Billionaire, since the payout is in lira, which currently exchange at something like 2200 to the dollar). The German version follows the American and French versions closely (set design, host tie, etc.), but the Italians do things their own way (don't think you'll ever see Regis with a goatee, earring, and leather jacket). It's amazing what you will watch when you're killing time waiting for a plane.
Up at 4:30, back to the airport (with our mountain of baggage). Today we start on Air France, with a 3rd class seat on the morning flight to Frankfurt (I'd never heard of 3rd class airline seats, but they exist - all you get is a seat, a croissant, and a cup of water). I've never been to Germany, so this is an adventure - though Frankfurt airport looks pretty much like any other airport. We connect to our American flight to Dallas. We have seats. We board. Settle into our coach seats. I practice folding my knees up to my chin. We wait for them to board all the other people whose flights were cancelled yesterday. It's going to be a very full flight. Plan to be crowded. Luckily we have aisle seats behind each other on the 2 seat side of the plane.
Flight attendant stops by Jayne's seat "Ms. Clark, come with me please" - are they bumping her off the plane? Nope, she's getting upgraded to Business Class. What about me? Jayne puts her negotiating hat on. Begs. Pleads. The flight attendant comes back to my seat - gives my seat assignment card back, smiles: "Come on up to Business Class". Jayne is waiting with a glass of champagne. Life is good.
14 hours later, we're home.