A Week in the U.K.
London and Edinburgh
November 2005
One of the oxymoronic aspects of business travel is that when you spend a significant portion of your life sitting in airplanes, eating strange food, and sleeping in uncomfortable beds, you accumulate mass quantities of airline miles and hotel points, which you can then use to... sit on airplanes, eat strange food, and sleep in uncomfortable beds. The only advantage in the equation is that when you use the miles and points, odds are you won't voluntarily choose to use those miles or points in say, Midland and Odessa (not that there's anything wrong with vacationing in Midland/Odessa).
When we found ourselves with the need to use a week of vacation time, and the opportunity to clear some schedules, the die was cast, and the planning began. The basic criteria: 1. location, 2. type of tour, 3 getting there, and 4, fun factor.
We're not 7 country in 7 day tourists. Instead of trying to do a "grand tour" all in one bus ride, a closer inspection of a region by bike or foot can often reveal hidden gems or local color missed by faster travel.
Over the years, we've had a chance to see bits of France, Germany, Holland, and Belgium, among others, but had only changed planes in England. Hmmm? No language to learn (more or less)... easy to get there... Marriott hotels... a "tourist" area in the off season (no crowds and lower prices)... Hmmmmm? England, Scotland, late November... cold... rain... warm pubs... Hmmmmmmmmm?
Jayne goes to work. In short order we have 2 tickets to London and 4 nights in a 5 star central London hotel, courtesy of miles and points, discount rail passes that give us 4 days of unlimited travel on British Rail, and a basic plan of attack. Four days in London, train to Edinburg, two nights in Edinburg, back to London for one night, then home.
Given the time of year, and weather concerns, we reluctantly passed on a rural cycle tour (it's OK to cycle if you're cold or wet, but not if you're cold and wet), and opted for an urban tour using mass transit and walking. Both London and Edinburgh are dense urban areas with extensive subway and bus systems that serve both the working commuters as well as us tourists. Like many old, large cities, there are distinct areas with their own character offering the slow-moving tourist a unique perspective.
Off and Away...
Since the trip will start on Thanksgiving day, we'll miss our friend Sue's annual Orphans and Waifs Thanksgiving gathering. Luckily, since the party starts on Wednesday (and for some, the Saturday before), we make a quick trip up to visit the gang, then home for the final packing. Since our flight doesn't leave San Antonio until the afternoon, we have Thanksgiving brunch at the nearest open restaurant - not exactly turkey, but chilaquilas can be pretty tasty. The airport is almost deserted - nobody travels on the holiday itself and the overnight flight to London is uneventful. Jayne now swears by the Ipod/noise cancelling headphone combo, but I found the Ambien quite refreshing. Before you know it, it's 8 am and you're in London. There's a direct train from the
London and the Brits
The locals will tell you that London is really a collection of villages that have grown together. There's the one square mile of Londonium, the mother city; Westminster, where the Queen lives; Soho; etc., all melded into a multicultural urban environment. The melding was probably "helped" in part by the bombings of WWII.
But it's still a big city, with an urban feel not unlike Paris, New York, or San Francisco. The barmaid who pulls a pint of ale in a London pub is more likely to have a Bulgarian accent as Cockney. Harrod's, the epitome of English retailing, is perfumed by a Krispy Kreme shop in the basement, and is owned by an Egyptian. There are more McDonald's than fish & chips shops and the Starbucks latte is rapidly supplanting tea. Prices are high for most consumer goods, fuel (gas around $6/gal), and housing, but the major museums are free, and there are occasional bargains on food. Taxes are high and many (even a tax on television sets), and the media was in an uproar over a proposal to raise the pension qualifying age for non-government workers to 69 from 67, while government workers could receive pensions at 60. (The big media story was the death of football (soccer) star George Best - coverage was continuous on the BBC and the papers.)
Regardless, a London visit should be on one's life list. It's foreign, but familiar. They drive on the wrong side of the road in front of the Tower of London which is right by the Thames. Over our lifetimes we've learned of knights, kings, palaces, the Blitz, the Beatles, Charles, Di, Camilla, pubs, ale, and finally - you're there. The mother country. We speak the language, but not the dialect, and learn to "mind the gap" when boarding the Tube.
There's the Crown Jewels, with diamonds as big as goose eggs, and anti-fur activists picketing outside the trendy shops. Museums are stuffed with artifacts taken (or, depending on your frame of reference, looted) from the near- and far-flung reaches of the Empire - the Rosetta Stone, mummies, an entire temple

, a cigar chewed by Winston Churchill, and more marble statues of naked guys than you can shake a stick at (90% with the penis chiseled off - we won't attempt to analyze what's up with that), totem poles, obelisks, and by the way, don't forget to visit our gift shop and cafe.
There's Nick the fireman and Gary from Australia, who share a table with us in a crowded pub, and gift me with the Cuban cigar that I'll smuggle back to friend Richard.
London. The past comes to life and creates new memories.
That's just a bit of what 4 days in London will give you.
airport to central London (the Gatwick Express), followed by a short ride on the Tube to our hotel.
The Renaissance Chancery Court hotel is in the heart of legal London, near the British museum and Fleet Street. Catering to barristers, businessmen, and tourists, it offers

all the comforts of home, plus chocolates on your pillow each night. To top it off, there are three bastions of American culture within 100 yards - McDonalds, Starbucks, and Krispy Kreme
We've learned that the best way to beat jet lag is to immediately get outside and do something physical. The combination of sunlight and activity seems to help reset the biological clock, so once we've dropped our bags at the hotel, it's off to see the sights of London. A web search found The Original London Walks, a consortium of tour guides who conduct walking tours covering the major tourist attractions as well as some lesser-known aspects of the city. No reservations are required - you just show up at the appointed time and place (usually at a Tube station), pay the guide (around 7 pounds), and you're off. We start with a 2 hour tour of "Hidden London" and see small churches, pocket parks, and a few major landmarks. After our tour, we have a bit of lunch at the Italian place across the street (antipasti, glass of wine, cup of soup, pasta with sausage - 29 pounds/$50!), take a short nap, dress much warmer, then take another walking tour along the Thames that also includes a couple of pub stops.
Inside the Tate Modern Museum

Thames Pub Walk

Buckingham Palace

Firefighters'

Memorial

St. Paul's

Scaffolding covered with printed cover.

St. Bride's Church
Over the next three days, we put plenty of miles on our walking shoes as we explore central London...
| | | | | | |
| --- | --- | --- | --- | --- | --- |
| Big Ben | Parliament | Peace protest outside Parliament | Westminster Cathedral | London Eye Ferris Wheel | Waiting for a bus |
Better prepared for the cold, we venture out on Saturday with a plan to visit Harrods, but are thwarted by the crowds, so instead we explore the boutiques of Knightsbridge, then decide that an indoor activity is indicated. The Churchill Museum and Cabinet War Rooms fill the bill nicely.
Completed only a week before the start of WWII, the War Rooms provided a secure base where Churchill could direct the war, protected from bombs by a thick layer of concrete. When the war ended, they turned out the lights and locked the doors, creating a virtual time capsule. You can take a self-guided tour (for a couple of pounds extra, you can rent a sound guide - they look a bit like a cordless phone. Exhibits in the museum are marked with a 3 digit code. Punch in the code, and the guide provides a narration describing the exhibit, often with special sound effects. In addition to the War Room complex, the Churchill museum follows the career of the legendary leader.
No visit to London can be complete without a visit to Westminster Cathedral, Parliament and Buckingham Palace

(no Queen in sight - and we were so hoping to be invited in for tea). The Cathedral is particularly ornate, and covered with carvings, gargoyles, and grotesques.

Sunday starts on a lazy note. We sleep in a bit, enjoy a room service breakfast, then head out for the British Museum. It's warmer today, the streets are quiet, and the walk is short. The museum is amazing - Jayne gets her mummy fix, and we marvel at the ability of the Brits to haul huge chunks of rock over extremely long distances.

We try a pub lunch, and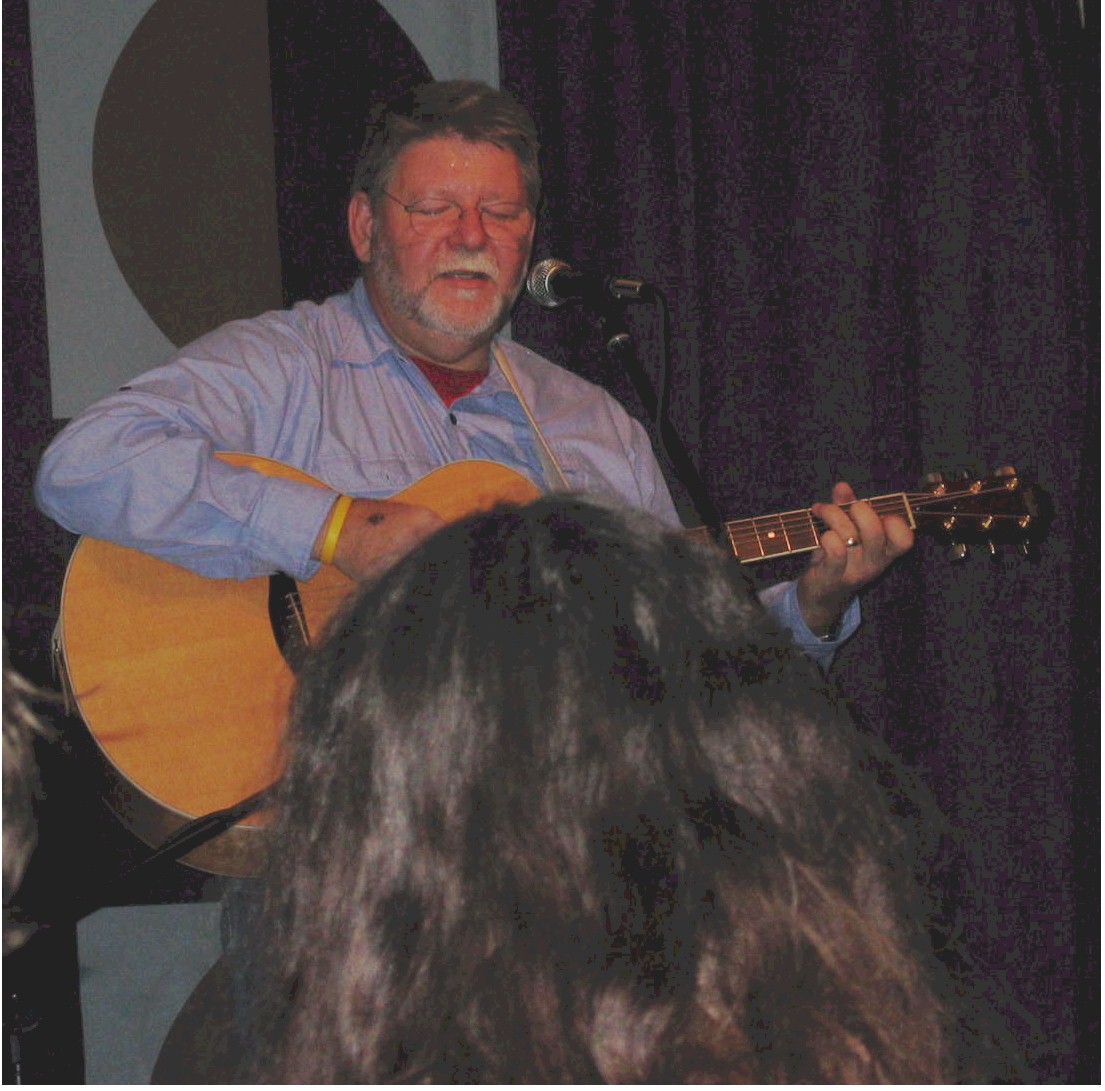 Steve decides that though the English interpretation of a hamburger leaves something to be desired, the ale is pretty darn good.
That evening, we take the train out to Twickenham, a London suburb, to the Cabbage Patch pub, to attend a meeting of the Twickenham Folk Club. The club is similar to Urban Campfires, hosting weekly performances by singer-songwriters. Headlining is Clive Gregson (whose CD is now in heavy rotation in Jayne's car), an ex-pat Brit living in Nashville who plays with Nancy Griffith, but Steve gets a chance to sing a couple of songs too.
On Monday, we surrender to multinational temptation and breakfast on McMuffins, but rationalize that since we're going to the Tower of London, things will balance out. Founded in 1066 by William the Conqueror, the Tower complex includes the Traitor's Gate, armor displays, and the Crown Jewels (an interesting display - the room is a disguised vault, and rather than walking past the display cases, there's a moving sidewalk).
After touring the Tower, we catch a water taxi There are glossy black ravens all around the Tower. Legend has it that as long as the ravens live at the Tower, the country will prevail. The ravens don't seem too interested in leaving.
Following our tour, we take a short walk over to a dock where we catch the water taxi that cruises up the Thames, back to the area of our Friday night walking tour. We make our way to Blackfriar's, a historic pub. Lunch is a meat pie, and a couple of pints of the local ale


.
We fill the afternoon with museum visits - the Victoria and Albert (decorative arts - Jayne likes the history of fashion) and the Science Museum (where Steve gets a chance to see exhibits on historic diving and aviation), but we don't do justice to either. There is so much to see and so little time, it's like trying to drink from a fire hose.
The evening ends with another visit to Harrod's. The crowds have dissipated and we have a chance to browse a bit (though we never find Santa, nor the Diana/Dodi memorial). We resist the siren call of Krispy Kreme, and instead enjoy a glass of wine and assorted nibbles at the tapas bar, one of numerous eating opportunities strategically placed throughout the store. After a short Tube ride, we're back at the hotel, preparing for tomorrow's trip to Edinburgh.
Though there have been threats of snow for days, Monday starts with a bit of sun. It's a short Tube trip to the train station, where we activate our rail passes (good for 4 days of unlimited travel on British Rail). We catch the 9 am train to Edinburgh, and settle in for the 4 1/2 hour trip.

Despite the onset of winter and patches of snow, the countryside is still very green. A patchwork of farms separates picturesque villages juxtaposed against nuclear power plants.

After crossing the Scottish border, the train skirts the coast, and we resist the urge to jump off the train and explore a coastal village.
Our first priority on reaching Edinburg is to find lodging, so we stop in at the Lastminute.com booth at the train station. First mistake. The young lady offers us a 3-star hotel with a standard rate of 150 pounds/night for the low price of 90 pounds. What a deal. We pay for the first night, grab the voucher, and take a short walk to the Waverly Hotel. What a dump. Though it's conveniently located on Princess Street (the main shopping street in Edinburgh), the warning signs light up as soon as we hit the lobby. A sign at the desk apologizes in advance for the lack of hot water until 4 pm, and the elevator will be out of order until 5. There's no indication whether the two are connected. Our room fronts on Princess Street, and the carnival rides set up in the park (the Ferris wheel will be accompanied by disco music until 10). Ok, maybe we'd been spoiled by our London hotel (5 star), but the complimentary trouser press does little to counter the worn, drab room, and the plumbing makes strange noises at random intervals. It's not that the room is bad - we've stayed in worse - but we've paid much less for much more in other parts of Europe. Since we've already paid for the night, we drop our bags and head out to explore.
Our first priority is lunch. Jayne consults the guidebook, and we try out The Dome, and ornate restaurant housed in a former medical college. The dining room is beautifully decorated for Christmas

, service is indifferent, but the food is decent (we decline to sample haggis, the national dish or Scotland).
We spend the rest of the day exploring the New Town section of Edinburgh, and visit a couple of pubs and an Internet cafe. In the course of our wandering, we see our first Mexican restaurant, and, following our tradition of trying Mexican food in every country, stop in for a snack.

All things considered, Cantina Mexicana is not too bad - we rate it #2 (behind Hacienda Mexicana in Speyer, Germany) on our "how close to San Antonio Mexican food is it" list - but there seems to be some confusion over what constitutes a pinto bean.
Upon returning to the Waverly, we discover that though the water is now hot and the elevator working, nothing else in the room works - lights, television. Apparently, the thrifty Scots feel that you can save electricity in unoccupied rooms by unplugging everything (we didn't notice this when we checked in, because the multiple windows in our corner room let in plenty of light, and now let in plenty of thumping bass from the carnival across the street). The combination of high quality room, 4 channels of BBC full of people with bad teeth, and the hard bed prompt a command decision - find better accommodations. Jayne goes to work and arranges a B&B for the next day.
We're up early and try the complimentary cooked breakfast that comes with our room. The breakfast is comparable to the room - adequate, but we pass on the black pudding. Jayne has arranged for us to drop our bags at the B&B, so we check out of the Waverly and grab a cab for the short ride to Seven Danube Street.
3 Views of Edinburgh...
"It's Frrrreeeeee!!!
We purchase a day ticket to one of the double-decker sightseeing buses that loop past the major attractions of the city and ascend to the upper deck to get a good view. Just as we and a group of Japanese tourists settle in, the driver pops up the stairs, spreads his arms wide, and happily announces in his Scottish burr "It's St. Andrews Day, so admission to the castle is frrrreeee!!!"
Haggis Quesadilla?
Probably every culture has some national dish that causes outsiders to shudder and say "you eat what!?" From tripas to lutefisk, some things are acquired tastes. Such is haggis, the national dish of Scotland. It's pretty simple. Take the offal from a sheep (lungs, heart, assorted glands, and any other parts that sane people shun), grind it, boil it with spices and oatmeal, stuff it into a casing (or a sheep stomach if you really want to be authentic), then cook it again (boiled or fried). Despite it being found on every menu except at the fine Scottish fare of McDonalds (McHaggis perhaps?) -including at another Mexican resturant

, we resist the temptation to sample this fine example culinary culture.
The Kilt
Another symbol of Scotland is the kilt. Though there are plenty of shops in Edinburgh specializing in kilt sales and rentals, Steve decides that he's not quite ready to don a skirt, regardless of it's cultural significance. Since it's St. Andrew's Day, there's a festive air in the city and a few brave Scotsmen are out in the cold wearing their kilts.
Jayne can't resist asking a cab driver whether he owns a kilt, and when he replies in the affirmative, she has to ask the two obligatory follow-up questions: What do you wear under it? Doesn't it get really cold? and What about shrinkage? Regardless, all we can say is that the Scots are better men than us.
This is more like it. For 10 pounds more than the Waverly, we have a private apartment with kitchen and sitting room - sheer luxury. Fiona and Colin are charming hosts, and their two dogs (Doris, a Staffordshire terrier, and George, a pug) give Jayne her pet fix for the trip. After a short visit, we're off to continue our exploration of the city.
Since we only have a day, we'll focus on the major tourist attractions - the old city, Edinburgh Castle, and the Royal Mile - and purchase tickets for the local tourist bus,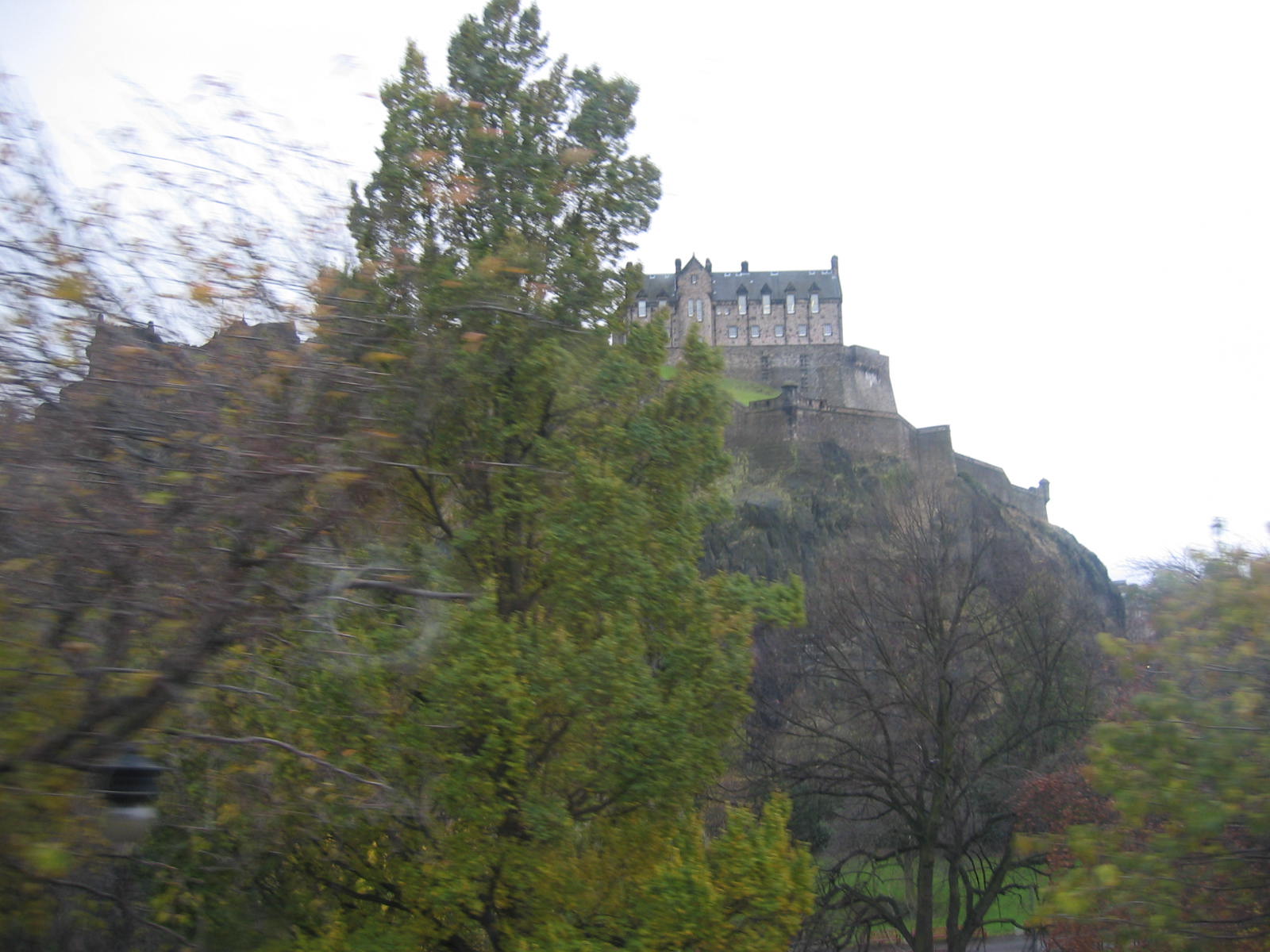 which takes us up the hill to the castle.
The castle dominates the Edinburgh skyline and is the repository for the crown jewels of Scotland - a crown, scepter, sword, and large rock. True, the Stone of Destiny is historic (Scottish kings sat on it when they were crowned), but the English took it 700 years ago and didn't give it back until 1996. But it's still a rock.
After the castle tour, we stop by the Scotch Whisky Information Center for a tasting and tour. Jayne decides that despite the guide's attempts to educate her about the nuances of the national drink, it still smells like cough syrup. The tour includes a automated ride that takes us past a series of dioramas depicting the history of whiskey (it's so Disney-like, we can't help bursting into a chorus of "It's a Small World After All".
The rest of the day is taken up with a walking tour of the city, ending with dinner at an Indian restaurant (no haggis in curry, thankfully). With a refreshing night's sleep in the comfy canopy bed, we're treated to a tasty breakfast. Our breakfast companions include a Scottish lord and lady who are in town for a gala at the Museum of Art. We finish our stay in Edinburgh by continuing our walking tour, and visit a street market that is very reminiscent of a French market.
The train trip back to London is uneventful, and we have a nice chat with a Scottish girl en-route to visit her boyfriend in London. Using the last of my Marriott points, we've arranged a hotel at Heathrow Airport, and enjoy one more night of hotel TV and overpriced food.
Heathrow is a sprawling complex, but there's shuttle bus service from the hotel to the terminal. Check-in is routine, and before we know it, we're off and away (after leaving the last of our pounds at the airport Harrod's branch). Even passing through Customs in Chicago is painless, and we're home by 8 pm.