A Sojourn in Prague
September 26-October 10, 2008
Our original plan had been to cycle all the way to Prague, then take the train back to Vienna, but after consulting the manager of our hotel in Cesky Krumlov, we realized that our best bet for a successful Prague visit would not include biking. Instead, we would take the bus to Prague, spend a few days, bus back to Cesky Krumlov, van shuttle to Linz, train to Vienna, then bike to our hotel - and surprisingly, that's exactly what we did.
After a great stay in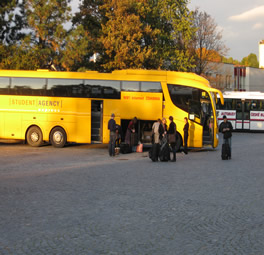 Cesky Krumlov, we caught the Student Bus to Prague. These buses are state-of-the-art, with Wi-Fi, movies, and an attendent who passes out refreshments. Other than the drivers' tendency to drive and chat simultaneously with the attendent while checking text messages on his cell phone, the trip was uneventful.
Jayne's friend Anna insisted that we plan to stay with her mother Inga while in Prague. Never being ones to pass up the chance to meet local people (not to mention get a place to stay), we agreed, and found ourselves meeting Inga and her friend Dimitri, who took us on a tour of the Old Town of Prague, then out to the countryside for lunch and a visit to their homes (and Inga's father, who, despite only speaking C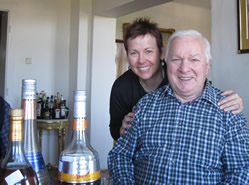 zech and Russian, was a great host with the brandy).