Biking the Danube from Vienna to the Czech Republic
(and a bus trip to Prague)
September 26-October 10, 2008
Though some say a journey begins with a single step, for us, a journey begins with several thousand frequent flyer miles - and given the travel gurus' advice to "use em or lose em", we decided to bite the bullet and do another European trip. It's not that we don't like traveling to Europe - it's the weak dollar. After last year's tour of Provence and Burgundy, we had vowed to hold off for a year or so, but I'd accumulated enough miles to get us somewhere, so Jayne went to work...
After a bit of research (and prodding from Jayne's friend Anna), we decided that a portion of our trip would be in the Czech Republic, but given our frequent flyer miles, the best available deal required a flight to Vienna, Austria. Not a problem - cycle a couple of hundred miles up the Danube from Vienna, hang a right, and you're in the Czech Republic.
We would fly to Vienna, assemble the bike, ride west along the Danube bike route toward Germany, then turn north and head toward Prague. Our original plan was to cycle all the way to Prague, but, like many of our trips, plans change.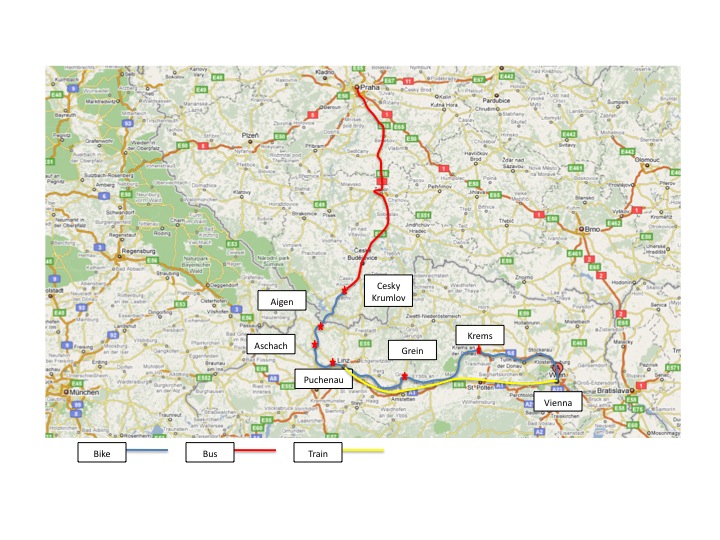 Getting There...
As always, getting a tandem recumbent tricycle to Europe is a challenge, particularly since Continental has lowered their maximum baggage weight to 70 lbs (down from 100). After hitting the weight limit last year, which required packaging the wheels separate from the frame, I vowed to do better. Using a masterful combination of corregaged plastic, zip ties, duct tape, and luggage straps, I fashioned a wheel case (it looks a lot like a drum case) that would hold the wheels, our bike shoes, pedals, and both chains. We ended up with 4 checked bags: the wheel box, our old faithful Crateworks case for the frame, a large duffel with Coroplast inserts for the seats, tools, and wet weather gear, and a rolling suitcase for our Arkel RT-60 panniers. I carried on a small waterproof duffel to hold shoes and quick access items and Jayne carried a small backpack with electronics and essentials.
One new gadget we tried for this trip was the Amazon Kindle electronic book. Rather than carrying a half-dozen books (and trying to find English books on the road), these paperback-size readers can hold up to 200 books. The Kindles' performed very well - readable displays, long battery life, and a compact format make them ideal adjuncts for the reading traveler. Now, if they'd just publish guide books in electronic format...
By tradition, our friend Janet hauled us to the airport. Thanks to a helpful baggage handler and our review of the baggage rules, there were no problems getting the bike on the plane (and the Continental rep didn't charge us a bike fee - woo hoo!). The trip to Vienna was uneventful: San Antonio - Houston-sleeping pill-nap-Paris-Vienna, and we're at our pension in central Vienna by early Saturday afternoon, where we attend to two orders of business: assemble the bike and have dinner. Both are accomplished in fine order, then its off to bed to rest up for heading out on the road
.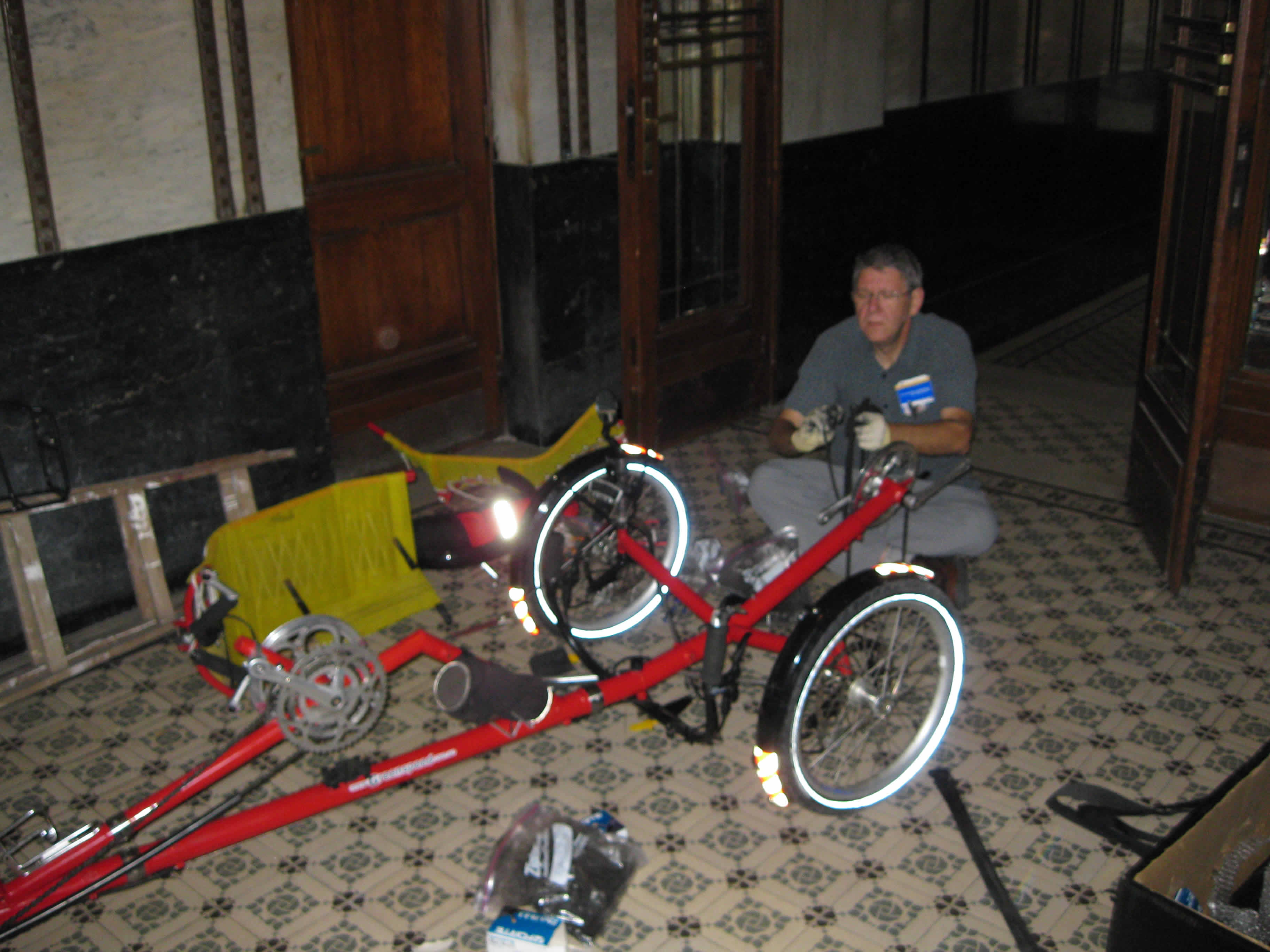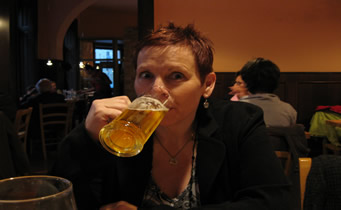 A Word or Two Vienna
Of the major European cities we've visited, Vienna has been our least favorite. Despite being typically Prussian clean and orderly, the city is just too darn Imperial for our taste - there are virtually no small, unadorned spaces. Instead, there are grand public spaces and huge building housing the government and related organizations like the opera, museums, etc., juxtaposed with the hawkers dressed like Mozart who try to sell you tickets to the opera, museums, etc.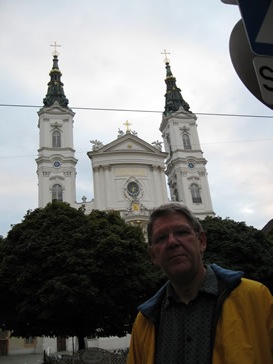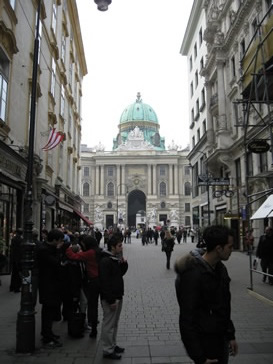 At least we found a Mexican restuarant... Tin Tan is managed by a Spanish gentleman, but has a Mexican chef. Though we got there right at opening, eventually we ended up with a tasty plate of guacamole and some margaritas, so all was right with the world.