Trip Diary
Click on small photos for full size picture.
May 5, Monroe to Columbia
I take the back route from Winnfield to Columbia, up curvy highway 34, looking for the site of the old gin at Gaar's Mill. There's a new bridge over the railroad at Cheniere ("Shinny") - the road used to pass under the railroad here and the single lanes were divided by the creosote posts supporting the tracks and decorated with mirror fragments donated by inattentive drivers. On to I-20 east into Monroe. It's a little cloudy...
Bikes and gear are spread out at Forsythe Park when I arrive at 7:30. A few familiar faces from last year's ride pop by as I get the trike out of the truck and pack up the last of the gear. There are a lot of recumbent bikes around - even a couple of homebuilts. According to the organizers, there are 85 riders representing 12 states, Canada, Germany, and Puerto Rico. The oldest rider, Miles Luke, is 81.
The ride kicks off at 9. There are occasional sprinkles as we pass the outskirts of Monroe, that give way to clear skies and gentle headwinds. At the first stop, I discover that I failed to throw a bottle of sunscreen into the gear bag. Thanks to the kindness of strangers, I dodge the sunburn bullet.
The terrain is flat, past cotton and corn fields. Throw in a few windmills and a couple more canals, you've got Holland.

Even so, by noon it's time for lunch, and the lunch sag stop is 4 miles past where the route map says it should be. Luckily, the Ladies Auxiliary of the Hebert Volunteer Fire Department have plenty of plates of barbeque chicken for sale (and they threw in strawberry shortcake - what a deal).
The only hill is the climb over the Ouachita River bridge at Columbia, then we coast down to the junior high school, where we'll lodge for the night.

Showers are at the senior high school a couple of miles down the road, but the Main Streeters provide a shuttle service, complete with local commentary.
Festivities will be held at the River Walk, just a few blocks walk from the school.

We have drink tickets redeemable a the Watermark Bar,

where the water level from the 1927 flood is marked on the wall (about 3 feet deep, if you're interested).

Down at the river,

we could tour a Coast Guard boat - though we expected some sleek river cruiser that searched out smugglers, what we got was a tour of a bouy-laying barge. Not that it wasn't interesting, mind you.

Columbia has it's own version of a River Walk

where the evenings activities were held. We had genuine blues

to accompany our meal of pork butt, baked potato, salad, corn, roll, and chocolate cake.
May 6, Columbia to Winnfield - the Pork Fest Continues...
Today's ride takes us from the river bottom country of north east Louisiana on to the piney woods of my home town, Winnfield. Our route takes us through the rolling hills and pine forests common to central LA. Our first rest stop is at the cemetery

of Hebron Baptist Church,

just across the Winn parish line.
Those Iowa Gals...
One thing that sets the Iowa gang apart from the other riders is their unique fashion sense. Each day offers another fashion statement, from animal prints

to feathers

- and their decorations are not just limited to themselves

. They do become the local media darlings

, here being interviewed by Bob Holman of the Winn Parish Enterprise.
At the rest stop in Sikes, LA, I meet up with my cousin Kathy Tullos, who provides us with a special reward for climbing all those hills.

Finally, we roll into Winnfield. I get a scare just after passing the city limits sign - a police car pulls up behind me with lights flashing, but luckily, it's there to escort us into town. In fact, every rider receives a police escort all the way through town.

First stop in town is at the Museum, featuring displays of Huey and Earl Long and O.K. Allen (all Winnfield natives who served as Governor), and the Louisiana Political Hall of Fame. Next stop is at home, visiting with Mom and Dad, then it's on to the fair grounds where we will spend the night.

Winnfield check-in
The Winnfield stop is great - fine people ( the Winnfield Senior High Class of '74 runs the town, Mayor Deano Thornton

, and councilman Matt Milam were my classmates at Winnfield Senior High ) and great food. The city sponsors a pig roast


for the riders and locals. We get a chance to meet old friends and new

while sampling some cracklins

. A singing group provides the entertainment.

Even Dad enjoyed the visit.


Thanks, Main Street!
The Main Street folks did a great with the tour. Carolyn Phillips of Winnfield is President of the Main Street Managers' Association. She did a great job leading the team that put this year's tour together. Here, Carolyn and Miles Luke

share a moment.

Kay and Marc from Columbia and Bastrop respectively worked like Trojans to make the tour a success.
May 7 - Winnfield to Camp Grant Walker, Pollock
Around 2 am, a thunderstorm rolls through Winnfield, but by 6 the rain has stopped and soon after feasting on breakfast featuring home made cinnamon rolls, we're off to Camp Grant Walker, a 4-H camp near Pollock. Terrain is mostly rolling hills through the pine forests.
The camp is excellent, with air conditioned dorms, warm showers, and a swimming pool.

After dinner, we get a briefing for tomorrow's big ride - an 80 mile push to Winnsboro.


May 8 - Camp Grant Walker to Winnsboro
I try to psych myself up for today's ride. I haven't ridden this far in over a year, and am a bit concerned about bonking. Luckily, only the first 20 miles is hilly, then the terrain flattens back out to farm land. Most of the group stops at Sicily Island and makes the day of the Snak Shack (I highly recommend the chocolate shakes).
As we approach Winnsboro, the clouds continue to build and we see lightning in the distance. By the city limits, there's a steady rain - the trike throws up twin streams of water from the front tires, giving me a much needed shower. The water also cleans the tires and shows that they are worn down to the casing - luckily the bike mechanic that meets the tour each day has a set of tires that will fit.
Camp tonight is at Winnsboro High School.

The ROTC kids direct us to showers and even provide a laundry service. Dinner is provided by the Sheriff's Department (fried catfish, pasta salad, slaw, and sweet potato pie). A boy scout troop washes bikes - can it get better than this?
May 9 - Winnsboro to Poverty Point
An early breakfast is provided by the First Baptist Church, then we're off again. A few miles outside of Winnsboro, I see an amazing sight: a live armadillo on the road (all the other armadillos I saw were in varying levels of decay and flatness.
Our first rest stop today is at a yam processing plant.


Due to popular demand, the plant donates 400 pounds of yams to the riders for souvenirs (filling up Carolyn's truck).
Camping tonight is at Poverty Point State Historic Site near Epps (the local cafe/tanning salon serves a mean plate lunch). Poverty Point was settled over 3000 years ago and features a series of earthen mounds and ridges built by the original inhabitants. Archeological work continues here to learn more about the people who built the extensive earthworks. Tours and demonstrations are provided daily. We were allowed to stay in dorms that normally house archeological teams that work at the site.
Dinner tonight is provided courtesy of the park staff. Chief cook is Dwight Landreneau, who is Assistant Secretary of the Office of State Parks. Dwight cooks a mean jambalaya.

There's no outside entertainment scheduled, so we have to make do with our own skills. Miles and his friends put on a routine poking fun at Miles' "Bike Valet"

, while Winnfield Mayor Deano Thornton and Winn DA Terry Reeves (who brought copies of the Winnfield newspaper featuring the ride) looked on

(and Deano provided a funny story or two. C.W. picked a few tunes for us too...


Bent Bikes on Tour
One feature of the Main Street ride that's interesting is the number of recumbent bicycles. Of 85 riders, there were 12 recumbents, including bikes by Vision, Trek, bikee, Lightning, Easy Racers, Optima, plus a couple of homebuilts.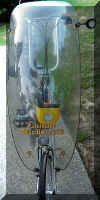 May 10 - Poverty Point to Chemin-a-Haut State Park
Dwight prepares a hearty Cajun breakfast and we're off to our final night's stop, Chemin-a-Haut State Park, near Bastrop. Today's ride is mostly flat, with a bit of a climb into the city of Bastrop. Our rest stop was luxurious, to say the least:

We stop for lunch at a barbeque and pie joint. The final 10 miles is on a shady, winding flat road. Most of the tour, I've ridden alone, but for this bit I hook up with my friends Lep and Perry

. I don't know if it was the terrain or the company, but we set (for me) a fast pace that's a load of fun. Perry performs a circus trick at speed as she opens my pannier so I can get to the camera. By holding it over my head, I can snap shots of the group (the trike does make a great camera platform).


For our final night, we're treated to entertainment,


good food, and banana splits. We stay up late (ok, until 10 pm) visiting and playing guitar.
May 11 - Chemin-a-Haut to Monroe
We get a early breakfast and are on the road by 7. Since most of the riders have long drives ahead of them, everyone is ready to get going. Again, the terrain helps - it's flat and the wind is calm, so we can make good time.

I do see the only thing slower than me, though:

By 11 or so, I'm back to Monroe and on the road for home.
The Future
Next year, the Main Street tour will focus on southeastern Louisiana. For around $225 you can't beat this tour. See you next year!